NEWS ARCHIVE
Monday - March 5 - 2001
Ducks trade Selanne to San Jose &nbsp
[10:52 AM PST]

Well hopefully this will mean the end of our troubles with Anaheim. But this only makes the Sharks stronger. And considering we play them 4 times this month in 2 home-and-home series, we will be seeing a lot more of Teemu. -Full Story-

Interesting weekend... &nbsp
[10:47 AM PST]

I left town this weekend for Keystone, Colorado, hoping the Kings fared well in my absence. And that they did! Thursday, from what I hear, they played a solid game, but could only muster a tie with Chicago. There was no TV coverage anywhere, unless maybe locally in Chicago, so I could not watch a replay when I returned home. However, the Saturday night game with Detroit was broadcast on ESPN2, so I was able to watch the game live from my hotel. WOW!!!!!!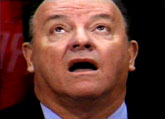 That look says it all.

However, I returned home at 4:30 pm yesterday, only to be treated to possibly the worst game I can remember in recent history. Ok maybe the last time the Ducks shut us out 4-0 was as bad, but still... I choose not to acknowledge that game. It did not exist.

Thursday - March 1 thru Sunday - March 4 - 2001
Out of town, AGAIN &nbsp
[9:26 PM PST]

My apologies, but I must go out of town to take care of some business in the snow! Maybe one day when I have some staff members, I wouldnt have down-time. Anyway, I made a little progress in the Highlights department, to check out a test, go to the Highlights section. Be back Sunday with all the news!

Wednesday - February 28 - 2001
Passmore traded to Blackhawks &nbsp
[4:41 PM PST]

According to an LA Kings press release, one of the Kings many goaltenders, Steve Passmore, was traded to the Chicago Blackhawks for an eighth-round pick in the 2001 NHL entry draft. -Full Story-

Mystery of the Month &nbsp [12:08 PM PST]
DISCUSS
Can anyone tell me what the heck Stu Grimson was doing in the penalty box during last night's game at Nashville? I'm stumped...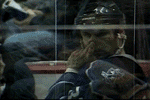 Tuesday - February 27 - 2001
Kings Acquire Kelly &nbsp
[9:08 PM PST]

The Kings continued their dealings with New Jersey today, during the Kings/Nashville game, acquiring gritty center Steve Kelly in exchange for future considerations. -Full Story-

Easy as 1-2-
3

... &nbsp

[8:13 PM PST]

The Kings win their 1-2-

3

rd in a row, and get great contributions from all 1-2-

3

new players, and a great shorthander by number 1-2-

33

, and down the Nashville Predators to close within 4 points of Edmonton for the 8th and final playoff spot. -Full Story-&nbsp-LA Times-

More Blake Trade Opinions &nbsp
[10:24 AM PST]

Elliott Teaford over at The Los Angeles Times gives us his take, which I agree with, on the Rob Blake trade.

Also check out Bill Plunkett's team report over at The Sporting News, he discusses the trade as well.
Sunday - Februray 25 - 2001
Luc Robitaille to appear on "Turn Ben Stein On" in April
[4:54 PM PST]

Mabye some of you knew about this, but it is news to me! Luc Robitaille will appear on a popular half-hour interview program on Comedy Central called "Turn Ben Stein On" on Thursday, April 12th 2001, at 11:30pm. Make sure to set your VCRs and Tivos to record it!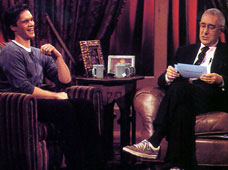 Kings Zone on Yahoo!
[11:32 AM PST]

After a few weeks of waiting, this page is starting to pop up on search engines, most notably in Yahoo's LA Kings Fan Page Listing. In honor of this, tomorrow I WILL bring the Highlights Page back online within the next 2 or 3 days. Also, any new visitors to the site, PLEASE give me some feedback, I want you to return. The messageboard is free and easy to use, and takes only a little bit of time to leave a comment or two.
Saturday - February 24 - 2001
Deadmarsh, Miller, Potvin all strong in Kings Home Debut
[4:07 PM PST]

The Kings and their newcomers played a solid game at home versus Columbus, and win 3-1. Deadmarsh, who didn't even practice with the team before the game, made his presence felt regardless. -Full Story- -LA Times Recap-
Friday - February 23 - 2001
The Aftermath
[4:45 PM PST]

Los Angeles Times staff writer Helene Elliott gives her take on the Rob Blake trade, and how it affects the Kings.
Thursday - February 22 - 2001
Post-Blake Era Begins on Positive Note
[10:45 PM PST]

Aaron Miller has a strong game, and the Kings pull off a solid shut-out victory over the Calgary Flames. -Full Story-
Wednesday - February 21 - 2001
Bye Bye Blake [11:38 PM PST]
DISCUSS
The inevitable finally happened. Rob Blake is no longer a Los Angeles King. He and center Steven Reinprecht are sent to the Colorado Avalanche for right wing Adam Deadmarsh and defenseman Aaron Miller. -Full Story- -The Sporting News-
Tuesday - February 20 - 2001
What to blame next?
[8:55 PM PST]

A fresh goaltender didn't help. So what is to blame now? The Rob Blake Situation? Coaching? Management? SOMETHING has to be accountable for the Kings lack of anything. They play another disastrous game against Edmonton, and slip 6 points out of a playoff spot. -Full Story-

Blake to go soon
[9:49 AM PST]

A Rob Blake trade is imminent, and may be just what this team needs. Apparently after the most recent meeting produced no results, GM Dave Taylor was ordered to make a trade, and a deal could come within a week. Read up about it at The Sporting News.
Potvin to make debut
[7:10 AM PST]

It looks like new Kings goaltender Felix Potvin will get the start in goal tonight against the Edmonton Oilers. This could either bring new life to the Kings, or finish them off for the season. -LA Times Story-

Monday - February 19 - 2001
Kings have problems... duh...
[2:49 PM PST]

The Sporting News takes a look at the problems facing the Kings and their upcoming schedule.

It's Business As Usual
[1:35 PM PST]

The acquisition of Felix Potvin either had only a brief effect on the Kings, or won't be a factor until Potvin is actually between the pipes. LA plays another emotionless game as they lose to the Chicago Blackhawks, 3-0. -Full Story- -LA Times Wrapup-
Saturday February 17 to Sunday February 18 - 2001
Out of town...
Again, my apologies for the lack of news/updates, as I have been out of town. Things should return to normal around here.

Friday - February 16 - 2001
Welcome Back Power Play!
[11:04 PM PST]

Kings are 2 of 3 on the power play, and play a solid 60 (YES! 60!) minutes, which resulted in a 4-0 win over the expansion Minnesota Wild. -Full Story-


Site Updates
[10:50 PM PST]

My apologies for not posting the game wrapup/boxscore earlier, but I do have somewhat of a life, ya know.


Major Updates
I gave Kings Zone its first Message Board, so lets start using it! I will be adding different discussion topics as the week progresses. You will not have to register, but if the board gets out of control, I will be forced to make registration a must. I encourage you all to register anyways to unlock useful features of EZBoard.


Minor Updates
I recieved 1 email so far suggesting the purple font is a little hard to read on the black background - I brightened the color slightly, I hope it is better. The menu is still a little hard to read, I will take care of that soon when I finally create a logo for the site.


Corkum Placed on Waivers
[7:42 AM PST]

It seems as though the Potvin deal was only the first in what may be a flurry of moves made by the Kings to spark some emotion, as they placed center Bob Corkum on waivers... LA Times Report
Site Info section online
[1:39 AM PST]

Kings Zone Site Plan and Site Information is now available for viewing, and I ask that new visitors to the site please check it out, so you realize this site is still under development, and hopefully provide me with some feedback to help mold it into a great site.

Also, special thanks to Phil Dawson for the extra exposure, and a big welcome to any PCHL visitors who may have been bored enough to click on the link!

Thursday - February 15 - 2001
Kings Acquire Potvin from Vancouver
[4:57 PM PST]

The Kings acquired ANOTHER struggling goalie, Felix Potvin, from the Vancouver Canucks today for 'Future Considerations'. An interesting move, I hope Potvin becomes the "Felix the Cat" from his old Toronto days. -Full Story- -LA Times Report-

Blame for struggles does not fall upon Andy Murray
[9:27 AM PST]

According to The Los Angeles Times, there have been discussions between management and Kings Head Coach Andy Murray about a contract extension.


Wednesday - February 14 - 2001
LA shows signs of life, goaltending still shaky
[8:20 PM PST]

It looked like a different team tonight in Dallas, as the Kings played a solid hockey game that kept it close, but again, a bad goal means the difference between a win and a loss... -Recap- -LA Times Recap-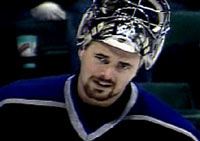 Leiweke hits the showers...
[9:53 AM PST]

Kings President Tim Leiweke apparently made his debut visit to his team's locker room after Monday's game, to address the teams spotty play. -Full Story-

Kings Zone receives name, goes public!
[9:50 AM PST]

No more "Snappy Title Here", I finally named this place "Kings Zone", and have submitted it to numerous search engines, so I hope to start getting some hits soon! I'm the only one who visits my page I think...

Happy Valentines Day!
[9:45 AM PST]

I hope the Kings make it just that tonight. Will Ken Hitchcock and Stu Grimson exchange valentines? I think not... Kings vs. Dallas

Tuesday - February 13 - 2001
Andy Murray listens to us!!
[10:29 AM PST]

Steve Springer of the Los Angeles Times says Andy Murray always listens to Kings Talk with Nick and Daryl after games. I'm not sure if I'm supposed to feel MORE or LESS confident in him...

Monday - February 12 - 2001
Kings play for 15 minutes, lose...
[10:56 PM PST]

A late 2nd/early 3rd period push by the Kings is too little, too late, as they lose to the Edmonton Oilers 6-3, letting another 2 points come between them and a playoff birth. Styx's Recap -- Official Recap

King Khabibulin?
[9:59 AM PST]

The Sporting News throws another puck into the rubbery Blake-Rumor Stew, suggesting that perhaps when and if the sale of the Phoenix Coyotes to Wayne Gretzky's group goes through, a deal could be made for Phoenix goaltender holdout Nikolai Khabibulin, perhaps within the week!

In this case, no news is NOT good news
[9:54 AM PST]

Seems as though Rob Blake and the Kings have made no progress, and his minor injury has not spurred new negotiations over his contract. Check out the story at The Los Angeles Times.

Yet More Site Updates
[9:42 AM PST]

I have moved the Team Report window up to the top right corner to make the site a little more pleasing with all these frames. I've also made it work!! Its a nifty little box, there to tell you the who/what/where about the Kings current action, and basically everything you need that may or may not be in this main frame. Check it out!

I have made a little progress in finding a fast server to store my video highlights. I really want to bring this feature to you all, because I think it is a feature definitely lacking anywhere else. Mind you, I will offer these in high quality formats for broadband internet users, or those who dont mind waiting an hour... They won't be like the garbage you get from nhl.com.

Lastly, I NEED A TITLE FOR THIS PAGE!!! I've been informed by a user running a screen resolution of 640x480 that my title image "Snappy Title Here" is shortened to "Snappy Tit". While funny, this is a family site, people! If you have any suggestions for a name for this place, let me know at styx66@pacbell.net.


Sunday - February 11 - 2001
Marty McSorley Wastes No Time
[10:29 AM PST]

It didn't take him very long, but he's back in his groove already. Check out what Marty is up to.
More Site Updates
[10:22 AM PST]

The Standings section is now online, and will be updated nightly. I'm also toying with the idea of hosting the video highlight files on another server, which will delay the implimentation of the Highlights page for a while. The problem is, I have unlimited storage and limited bandwidth, while web hosting places out there have limited storage and unlimited bandwidth. I'll work something out.

Saturday - February 10 - 2001
Kings Can't Capitalize
[10:48 PM PST]

The Kings power play remains stagnant as they fall 4-3 to the Washington Capitals. Full Story
Kings Recall Boucher - Blake Still Out
[3:48 PM PST]

The Los Angeles Times reports that Rob Blake will miss tonight's game against Washington, and our old friend Philippe Boucher has been recalled to be a healthy scratch tonight.

McSorley Playing In US
[3:46 PM PST]

One step at a time, eh? LA's all-time favorite Goon has made a huge step towards playing in the NHL again one day... Could he be an LA King again? Check out the story from the Los Angeles Times.

Snappy Title Here goes LIVE!
[12:00 PM PST]

When I say "LIVE!", I don't mean complete by any means. Heck, I dont even have a title. But within the next few weeks this site will develop into your one-stop source for all that is the Los Angeles Kings. The layout will undergo quite a few changes, as I am trying to make the site ideal for all web browsers and screen sizes. So far, all I've got working is the Schedule section, but by tomorrow expect the Standings and Highlights sections to be online. I'll be working on recruiting talented and/or opinionated game-goers like myself to add their own editorials(rants) about the Kings and their current well-being. I'm also working on getting permission from the Associated Press to post AP News locally, rather than link out to sites like The Los Angeles Times. I also hope to add interactive features like polls, a message board, and chat. Stay tuned!
End Archive

Back To Main News.